Facility Management Surveys
Surveys provide more details and more information than a poll does. With more details, analysis, comparisons and segmentation, such as by country, portfolio size and more is possible, depending on the survey.
That's the reason surveys have so many questions – some of the questions aren't directly related to the issue or topic of the survey, but knowing your company size, portfolio, number of buildings and more helps provide more context and comparisons.
All the surveys below are public surveys so anyone in the Facilities Management profession can fill them in. Remember, by contributing (and providing your email address) you will get more information about the results than those who don't.
Mini Facility Management Practices Survey
Facilities Practices are the backbone of good service delivery. We have identified some of the key overriding practices related to management and administration of the portfolio and service that touch on most aspects of the Facility Management responsibilities.
This survey covers 14 key facilities practices that help develop an efficient and effective Facilities team while dealing with the important issues and initiatives that your company needs you to address. We ran this survey in the past using our original survey on-line and in paper format – check the Survey Results for preliminary findings.
To gather even better information, we are running the survey again but capturing more information, so this is your chance to contribute and see where you stand with your peers.
The Facilities Practices Survey is now open again with a new and improved survey.
Take The New FM Practices Survey Now!
Original Survey Results
We ran surveys in the past using our original survey both on-line and in paper format. Here are the results from those surveys. We are running this survey again with more questions that will enable better analysis. See the link at the end.
Recent Results

With only 66% overall meeting all the Facility management practices on the Survey, these results suggest there is a ways to go. It was particularly interesting to see the relatively low score for Energy Management and Quality Management.

This survey was run in a very simple form and is for all participants since the survey didn't ask for any identifying information, we can't break out the results.

That's why we are running a new and improved survey this time.

Older Results

These results are from a workshop that Michel Theriault of Strategic Advisor FM Consulting delivered in Dubai with participants from the Middle East and Africa.

It shows not only a lower overall result, but some areas which are very low compared to the previous broader results.

Note the very low results for Energy Management and Environmental Management in particular.
Space & Occupancy Management
This short survey addresses a key cost to our organizations – space – and how we manage it. Often the 2nd highest cost behind payroll, it doesn't always get the attention it deserves.
Managing space is often a key responsibility of facility and corporate real estate professionals, particularly given the cost of occupancy and the drive to manage it efficiently. But do you have the tools you need? Take this survey and you will be able to compare your situation with others.
Take the Space & Occupancy Management Survey Now!
Scope & Portfolio Responsibilities
The Facilities profession is widely varied and encompasses much more than just the Facility Manager title. Unlike some professions, Facility Management encompasses many different roles and skills. Not everyone in the facility or property management profession are responsible for all of these roles. Some are responsible for specific functions as specialists, others are responsible for everything while some oversee all these roles through other specialists.
This survey is based on our highly acclaimed FM Pie which shows the range of responsibilities in our profession.
Whether you are a coordinator, engineer, planner, technician, facility manager or the head of your facilities department, you can contribute to the industry's understanding of our own profession with this quick survey.
Our poll attempts to shed some light on the range of responsibility that exists and was inspired by our FM Pie, which you can read about on our companion Blog called Managing The Built Environment
Summary Results are Now Available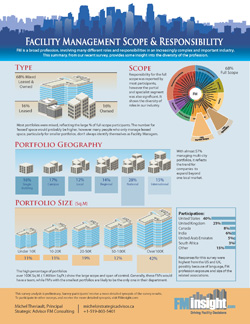 This is a 1-page infographic of the summary results. It gives a quick summary view of the key findings in a highly graphic format.
Infographics are a great way to show information easily. We expect to make one freely available for each of our public surveys however only participants will receive the full results after the analysis is complete.
Feel free to share this information with others in the FM community.
The Roles and Responsibilities Survey is now closed.